As predicted earlier this year, there is once again a global resurgence in infections from the virus. Once again the United States has failed to respond.
David Leonhardt, in The New York Times:
The U.S. was not alone in suffering a resurgence this fall. Much of the world did. But many other countries responded to that surge with targeted new restrictions and, in a few cases, with an increase in rapid-result testing.

Those measures seem to be working. Worldwide, the number of new cases has fallen over the past week.

In some countries, the declines are large: more than 50 percent over the past month in Belgium, France, Italy, Kenya and Saudi Arabia; more than 40 percent in Argentina and Morocco; more than 30 percent in India and Norway.

And in the U.S.? The number of new cases has risen 51 percent over the past month.

The causes are not a mystery. The U.S. still lacks a coherent testing strategy, and large parts of the country continue to defy basic health advice. One example is Mitchell, a small South Dakota city, where deaths have spiked recently — including the loss of a beloved high school coach. Yet anti-mask protesters continue to undermine the local response.
Simply looking at a map of cases per capita is damning. The same map as a function of GDP would be an order of magnitude worse — the wealthiest country on earth has failed by every measure.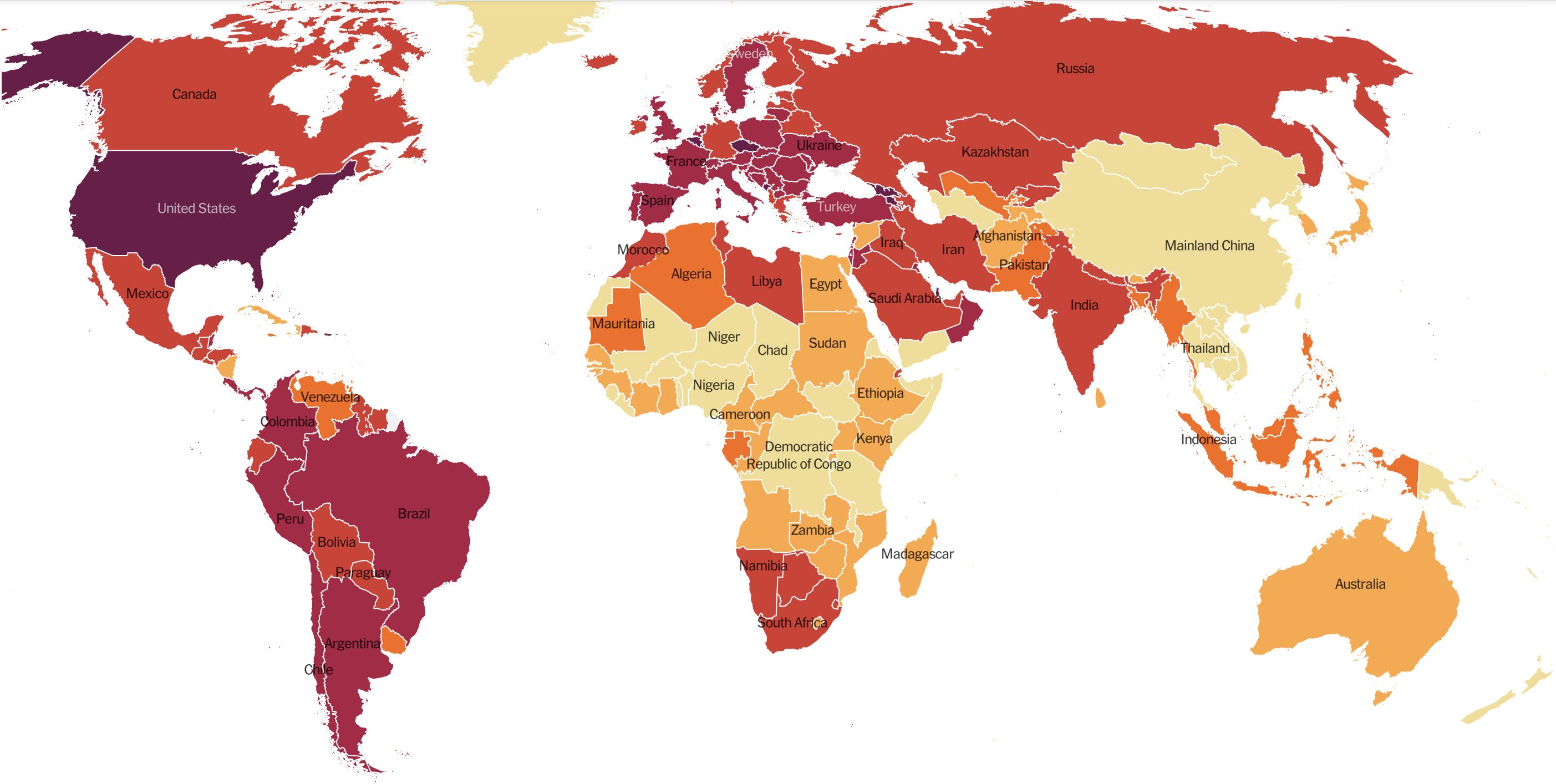 The failure is obvious: our ostensible leaders simply failed to do what was necessary. Nearly every other nation on earth showed what was possible but the U.S. stood with dictators and other failed governments like Russia and Brazil.
The root of the failure is also obvious and it's the Republican party. This shouldn't come as a surprise since they've been telling us for decades their mission is to reduce the efficacy of government in favor of markets and individual freedom. When they are in power, their only goals are to dismantle government as much as possible, reduce taxes and regulations, and corrupt the political process so they maintain that power even as a minority. This story, also from yesterday's Times, detailing how Republicans systematically dismantled the CDC, is a perfect example of the GOP's approach. And in the middle of all of this abject failure, they barely lost a presidential election, maintained control of the Senate, expanded representation in the House, and kept control over the majority of state governments.
This pandemic will end at some point. The vaccine is here and we'll slowly begin to sort out what our lives look like. The more intractable problem of how to deal with why we failed so badly will remain with us for much longer.